The World's First Sensory Exploration Board Game. ORDER YOURS TODAY!
IN2GREAT ME! is a game created by a kid, for a kid...with some help from her occupational therapist and mom. Explore sensory strategies, problem-solving scenarios, move your body with ``DO IT!`` cards, increase executive functioning skills, improve fine motor skill development, and much more.
Promotes Development
Flexibility
Encourages the willingness to change or compromise through the ability to consider other people's thoughts and ideas.
Ideation Skills
Promotes and stimulates the formulation of new thoughts and ideas.
Visual Motor Skills
Aides in eye-hand coordination. The ability to take in information visually and respond to it with a motor action.
Executive Functioning Skills
Promotes the development of 8 mental skills required to learn, work, and manage daily life. The 8 executive functions are: emotional control, inhibition (impulse control), working memory, initiation, planning and prioritizing, shifting (transition), self-monitoring, and organization.
Fine Motor Skills
Helps to develop the small muscles of the hands to improve manual dexterity and coordination of common activities that children typically engage in (scissors, buttons, writing, manipulating utensils, etc).
Gross Motor Development/Coordination
Develops gross motor skills that require whole-body movements that involve large muscles of the body (running, skipping, jumping, etc).
Self-Regulation
Teaches the ability to monitor and manage your energy, thoughts, and behaviors that are acceptable to elicit positive results. There are 4  types of self-regulation: mental, emotional, social, and physical.
Self-Reflection/Self-Awareness
Improve your ability to observe, analyze, and reflect upon yourself and think about your feelings and behaviors and the reasons that may lie behind them.
Self-Advocacy
Promotes speaking up for yourself and pursuing what is important to you; empowers you to decide on and carry out a plan to make good and responsible life choices.
Our Blog
Latest Posts From Our Blog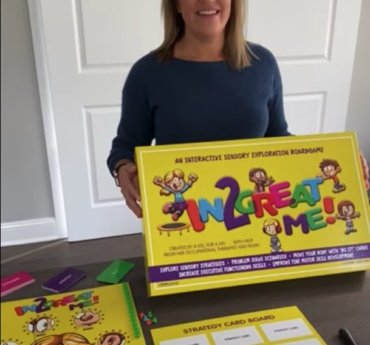 Hi, I'm Meredith, co-creator of IN2GREAT ME! My journey in creating this game started long before we came up with the idea. Lila and Angie brought the idea up to me. It started when I became the mom of a wonderful child with sensory needs. It has been a continuous journey from infancy, to toddlerhood,
Continue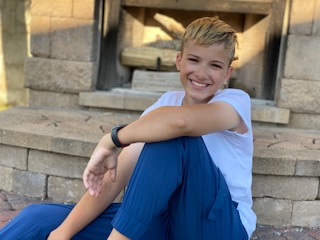 From an Idea to a reality: Lila's perspective Hi, my name is Lila. I'm 13 years old and co-creator of the IN2GREAT ME! sensory exploration board game. When I was in 6th grade, working with my school occupational therapist, she told me to throw a ball at the different things that can help me with
Continue